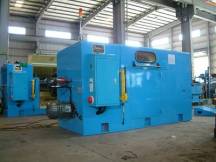 Pan-Pioneer promote our variety of stranding devices for different applications. During this slight-profit years, We devote a lot of efforts on design and manufacturering for cost-down without sacrificing anything. For each stranding machine models we have different options for different applications. We also offer custom-design service for special need from Buyers. This is based on our knowledge to cable manufacturing and well-experienced design team group who can satisfy customers with design of creativity.



Starting from 500mm ,560mm and 630mm high speed bunching machine , 800mm 1000mm 1250mm and 1600mm double twisting machines, with variety of devices and accessories, Pan-Pioneer provide complete line-up Bunching / Double Twisting Machines for customer satisfactory. All these Bunching / Double Twisting machines are designed for with a user-friendly oriented operation, such as Hydraulic Front loading / Loading (which means no cranes needed ) lifter , TFT screen monitor for information display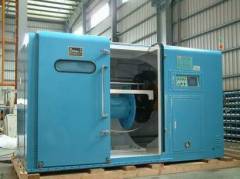 The pitch range of each machines are custom-designated available. These pitches are set by changing the transmission gears which are easily replaced by just a simple wrench. By selecting the different gear ratio , operators can setup the pitches of the products they need. The purpose of the design this way instead of setting on the touch-screen-monitor with two independent motors (this model is an option) is because :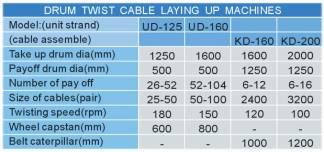 First of all, most of time , customers need only some specific pitches and mechanical linking (by gears), putting an ¡§screen¡¨ sometimes will attract operators curiosity to ¡§try¡¨ the monitor and damages caused by these ¡¨innocent¡¨ movement. The lost of you is not replacing a new monitor only but you loose the precious time for production.
Secondarily , The demand of ¡§high accuracy¡¨ products is required nowadays, this is more critical for making communication cable , such as pairing telephone cable ,CAT5A, CAT6, CAT7 LAN cable ,or SATA cable. With the bandwidth requirement is getting higher and higher. Under such circumstances , gear-linking bunching machine has much better performance than so called ¡§synchronization¡¨ multi-motor system. The weakness of multi-motor system can be seen especially during the speed ramping up / down period of time or emergency stop activated , the consistency of the products is highly questioned .
Finally , for some developing countries , such as South-Eastern Asia , Middle Asia , Africa, South America¡Ketc , maintenances is more difficult , this situation is more obviously since they are short of parts and technology, Mechanical parts for them is much easier for them rather than electronic devices because electronics devices are difficult to find substitutes which delay production. Mechanical parts are much easier to find replacements or made from local workshop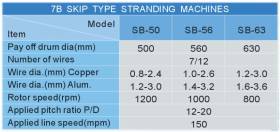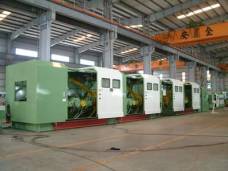 Another stranding machine with high efficiency is so called SKIP(BOW) type stranding machine. This machine is designed especially for 3-4 core cables stranded together.
This model is a substitute of traditional and low speed planetary laying up machine. This efficiency this machine performs can up to 10 times of planetary laying up machine in some cases with ¡§BACK TWIST¡¨ merit.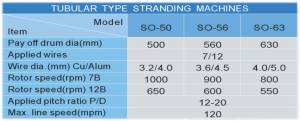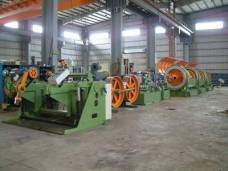 Another stranding with ¡§BACK TWIST¡¨ functionality is the most famous stranding machine- Tubular stranding machine. Just like it name, the center of this machine is like a tube inside which the payoff bobbins being placed. This machine is especially for high quality products without scarifying production speed. It is most suitable for 1+6 , 1+6+12 copper wire stranded the bunching / double twister machine can not perform well.
Those machines showing above are like light-weight boxers comparing to the machines introduced here. The first one is the most demanded machine : Rigid stranding machine.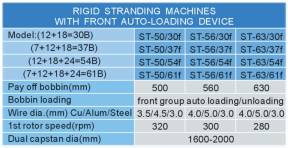 Rigid stranding machine , to power cable makers, are a necessities since this machine is for multi-layer wire stranding . This full line of this machine can strand 1+6 , 1+6+12, 1+6+12+18, and 1+6+12+18+24 wires.stranded from 1 to 4 layers with alternative stranding directions, except the applications showing above, this machine can achieve more layer products by just going through this machine twice, such as 91 wires with 5-layers stranded wires.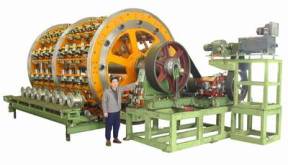 Since this machine is a huge amount of investment to cable factory, different applications should be performed on this machine as well , such as Armoring , Sector cable with pre-twist pitch, and compact the core wires before stranding. We have models with Side loading ¡V unloading , manual / auto loading modes as an option for customer.
Under some special circumstances, such as armoring / screening application which rigid stranding machine can not achieve, Screening machine become one of the choices for customer.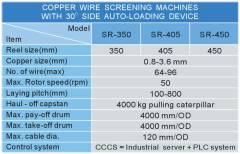 Normally this machine is working with couple taping machine warping the armored immediately after it being armored. This machine showing here with our pride are the biggest screening machine we make in Asia and we are the only one who are capable of making this machine in Asia cable machinery manufacturing. This machine showing here is 96 bobbin in one stranding cage , bobbin size can up to 450mm. This machine is also equipped with a side-loading / unloading device for automation.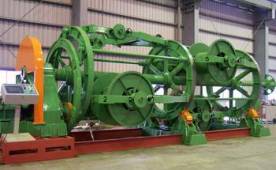 If special cable with ¡§BACK TWIST¡¨ is necessary, Laying up machine may be their best choices. This is especially can be seen on 1+3 ,1+4, or even 1+1+3 Sector-type cables which is the stand specification in some countries. When conductor being preformed by the rigid stranding machine, after extrusion process, Planetary laying up machine is the one and the best one for Laying-up these ¡§sector¡¨ shape cable into a round one. By making this cable , our laying-up machine are equipped with position / angle sensor to detect the laying-up angle of each one of the cables to make sure the perfect ¡§round shape¡¨ cable being made. These sensors can adjust the cable feeding angle automatically. This is a great beneficiate for cable production and we are one of the few who know how to make it perfectly with efficiency.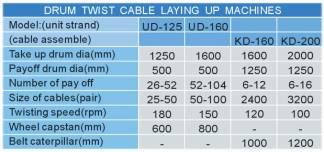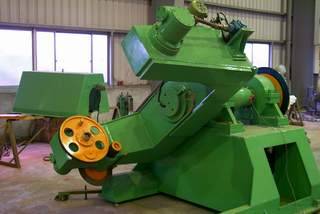 The final one is the most heavy-duty one ¡V Drum twisting machine line. With co-accessories This machine is designed for multi-purpose applications . If it is equipped with sub-payoff stands then it can be cable laying up machine . If it is equipped with steel wire basket payoff stands , it can act like a armoring machine. It can also laying up a bunch of telephone wires ( split into some sub bunches) into one major core. The disadvantage of this machine is the huge scale which need a lot of space and investment . Since it is a giant machine, production speed is also one of its flaw. Even though the disadvantages showing above, this model is still one of the most important equipments when we evaluate the capability of production because this machine offer non-back twist functionality which cannot achieve.