Pan-Pioneer promote our variety of taping machine for our customer with proud. Starting for metal , non-metal and mica tape Pan-Pioneer design differences types of taping machine for different material of tape . Basically there are two categories of taping machine ,ie ,concentric and eccentric type of taping machine. All these eccentric / concentric Taping machine are designed with a user-friendly oriented operation control panel, such as automatic tension adjustment, S/Z taping direction selectable, overlapping ratio and layers of tapes , Operator just key in the basic information , such as tape width , tape thickness, overlapping ratio , the control system calculate the taping ¡§engage angle¡¨ automatically., and TFT screen monitor for information display The overlapping range of taping machine are adjustable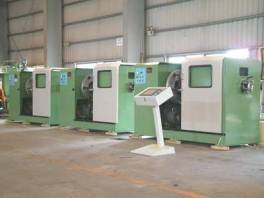 directly on the control panel by adjusting the ratio of taping head speed and line speed. The taping angle will be adjusted automatically. Besides, we offer wire-broken, tape-broken and tape run-out sensor which really help the operator no need to standby besides this taping machine during operating.

Except the merits showing above, all the taping machine are equipped with a high sensitive tension control system. Tension control is very important which affect the quality of the taped cable and wire , especially for Mica taped one. Pan-Pioneer utilize a hysteresist tension brake which is controlled by DC voltage. This device is highly accurate with contact-less design therefore it will never be worn out.

The first type of taping machine is so-called con-centric taping machine. The cable / wire go through the center hole of the tape .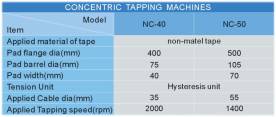 The advantage of the design is to operate the machine at high speed and get a better accurate taping quality than other model. Pan-Pioneer design this taping head can be operated independently therefore user can choose how many layer of tape on the cable. In other words, user can cascade as many taping head as they need and this taping line is ¡§expendable¡¨ for the future.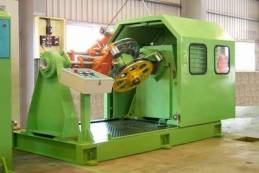 Another type of taping machine is eccentric type taping machine, Unlike the cable passing through the center of the tape pad center, taping head is circling around the cable and multi-tape pads can be placed. In other words, the performance of a eccentric taping head can be equal to several concentric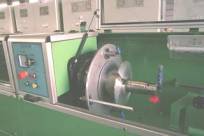 taping heads. The disadvantage of this design is due to the less accuracy of overlapping achievement or the difficulty of tension control due to the long path of the tape route, these conditions sometimes are not acceptable especially for some applications, such as Mica tape , Mylar tape or even paper tape. Eccentric taping machine are most suitable for metal tape , such as steel tape, copper tape, etc since it is capable of heavy-load circumstances. Since it is design for heavy-duty condition, the twisting speed of this head is less than the concentric type taping head.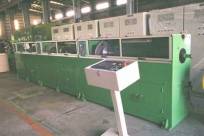 The last one is what we call Mica tape taping machine, This taping machine is design, especially suitable , for cable need to be taped by Mica material. As we know the tension of the mica tape is very fragile and broken easily .The most critical for mica tape taping is due to the products is for fire resistant purpose, the coverage of mica quality will affect directly for fire resistance test. Normally 2 mica taping head with overlapping ratio 50% is the standard requirement. This will equal to 4 layers on the shielded cable. The most special part of this taping machine we use on this taping machine is its dynamic tension adjustment device which will eliminate the uncertain factors which will affect the accuracy of the tension control.
Another special design for this taping machine is the ¡§spooler¡¨ tape application, You will under stand how wonderful of this design without my introduction when you see the attached photo. No need for operator replace new tape for one shift.
¡@